As a year round coastal destination, Il Monte Galala is here to change your life! Vacations are the most fun times in life but what about a never ending vacation. That's exactly what Il Monte Galala is offering, a 365 day vacation. If you work remotely then you can move up your whole life there. Even if you have to go to office, you can live in Monte Galala as it has an ideal location in Ain Sokhna, close to Cairo so commuting back and forth won't be a hassle. Il Monte Galala master plan includes a wide array of leisure activities. Allowing you to spend every day on a new adventure!
On a mission to help you live with the highest standards of living, in this article we will discuss what make Il Monte Galala a unique establishment.
Il Monte Galala Master Plan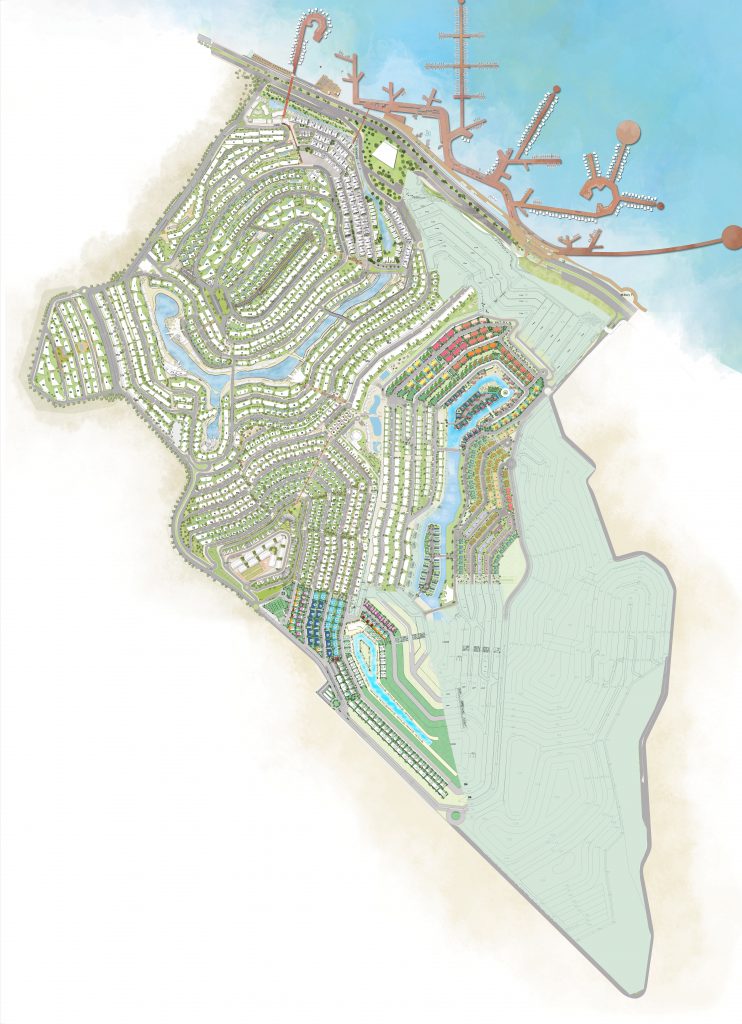 Established across 2 million square meters, Il Monte Galala master plan includes
A one kilometer beachfront
Seafront beach hub
Marina
11 kilometers of Lagoon shoreline
Old town and retail areas
Eco Desert park and trails
Art and Fashion school
Basecamp
Crystal lagoons
4 renowned hotels
Art walkway
Maesta neighborhood
Isla neighborhood
Elara neighborhood
Phia neighborhood
Mountain-top promenade
Sports zone
Luxurious spa
 Meditation retreats
Il Monte Galala Design
The coastal destination took advantage of the natural topography of the area. By integrating the surrounding water and mountains into the design of Il Monte Galala itself. These elements gives a sense of continuity and freedom to the place through connecting you with nature. You won't even be able to tell where the skies end and the sea begins.
The exterior and interior design of the project is inspired by both the authentic Egyptian architecture and the famous Italian contemporary style. The finishing includes two types that you can choose from based on your own personal preference. There is the mountain retreat finishing style and the beach retreat style. Each one has a color palate and a view that represents what's it named after.
Read more in Monte Galala – A Timeless Journey

Il Monte Galala Prices
After we learned about all the aspects that make Il Monte Galala a unique destination. Lets take a look on the units available for sale and their price rates. At the moment, you can get in Il Monte Galala
3-4 bedroom standalone villas with prices ranging between 8.8 million EGP and 21.4 million EGP.
3 bedroom townhouse for an average price of 4.7 million EGP.
1-3 bedroom chalets in Il Monte Galala has a price range starting from 2 million EGP up to 6.1 million EGP.
3 bedroom twin houses with a price range of 6.2 million EGP up to 11.9 million EGP.
1 bedroom studio that has a starting price of 2.1 million EGP.
Lastly there are apartments valued at a price range of 4.2 million EGP to 5.8 million EGP.
Please note that the prices and spaces of the available units are constantly updated. For the latest updates of the price list, please check out Il Monte Galala listings.
Get your unit in Il Monte Galala now through Nawy and live an exceptional life!
If you have any inquiries or questions about Il Monte Galala, please send us a message using the section down below and we will contact you as soon as possible.